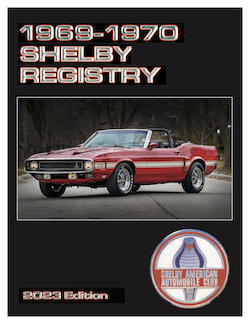 1969 - 1970 Shelby Mustang Registry, 5th Edition (2023)
1969 - 1970 SHELBY REGISTRY – 2023 EDITION
Softbound, printed June 2023

640 pages with pictures – most of them in color. Also includes updated owner listing, updated individual history of every car, serial number information, accurate production figures, production changes, explanation of options with statistical breakdown, stripe dimensions, and mechanical specifications. 

This is the seventh and final registry of the new 5th Edition SAAC Registries. Each one has been printed as a separate book. They are:  Leaf Spring Cobra, Coil Spring Cobra, 1965 Shelby, 1966 Shelby, 1967 Shelby, 1968 Shelby, and 1969 - 1970 Shelby. Print runs are relatively small and we expect them to sell out quickly. Second printings, if undertaken, will not be immediate so our suggestion is to get a copy now. You will not be disappointed.

Includes SAAC's famous 100% Satisfaction Guaranteed Or Your Money Back offer: if we're not 100% satisfied with your money we guarantee we will send it back.
Postage charged at time of checkout.
---
We Also Recommend